Everybody knows Cloudera, MapR, Splunk, 10Gen and Hortonworks. But what about Platfora or Hadapt? These 10 startups are my bet on which big data companies will probably be game-changers in 2012:

Platfora aims at providing a "revolutionary BI and analytics platform that democratizes and simplifies the use of big data and Hadoop". From what the website tells about Platfora approach, it is all about transforming Hadoop datasets into enterprise dashboards with multidimensional layouts, drill-down possibilities and predictive analytics and to generate big data insights. The founder, Ben Werther, had been product head at the data analytics company Greenplum before and Platfora VP Marketing hails from Solera, a company specialized in network forensic solutions. In September, they received $7.2M in Series A funding by Andreessen Horovitz, In-Q-Tel and Sutter Hill. In-Q-Tel is a company identifying and investing in solutions that could be valuable for the US intelligence community and especially the CIA.

Valley based SumoLogic tackles one of the central big data problems: log file analysis. With the help of their technologies Elastic Log Processing™ and LogReduce™, they claim to provide next generation logfile analysis on a petabyte scale. Co-founder and CEO Kumar Saurabh had been data architect at mint.com before. The company received $15M in January 2012 by Sutter Hill, Greylock Partners and Shlomo Kramer. SumoLogic left stealth mode only a few days ago, so try it while it is still fresh.

Hadapt is one of the few big data companies from the east-coast. Its USP seems to be the combination of the two elements of Hadoop and RDBMS. Their approach of combining SQL queries and Hadoop's cluster processing claims to deliver significant performance gains over standalone Hadoop systems (Hive/HDFS). CEO Justin Borgmann had worked as product developer at the anti-counterfeit company COVECTRA before founding Hadapt. The product is now in closed beta mode. It reecived $9.5M of funding by Norwest and Bessemer in October 2011.
Continuuity is currently in stealth-mode, but the impressive names – Andreessen Horowitz, Battery and Ignitions – behind the first funding round of $2.5M sound very promising. The founder and CEO, Jonathan Gray, worked for a personalized news site before. Unfortunately, that's all that can be said about this very covert start-up right now.

Kontagent is a bit older and already offers a product. This San Francisco based company has already received $17.5M in funding. While not a big data company per se, what Kontagent is doing is a big data challenge par excellence: tracking 15,000 clicks and messages a second sent from over 1,000 social and mobile applications. Their solution kSuite provides application developers and marketers with advanced analytical and visualization features.

Domo claims to provide a new form of business intelligence providing an SaaS executive management dashboard accessible by all kinds of devices. It has received $63M of funding by investors such as IVP and Benchmark. Its founder and CEO, Josh James, had been previously known for founding data analytics company Omniture. This seems to be one of Domo's strongest asset. Right now, Domo is accepting first users in their early-adopter program.

Metamarkets is all about detecting patterns and changes in large data flows such as transactions, traffic or social events. But the San Francisco-based startup not only identifies changes, but offers predictive analytics that can forecast future traffic or demands. Founder David Soloff had previously been Director Information Products at the media management software company Rapt that had been acquired by Microsoft in 2008. Metamarkets have received $8.5M of funding in two rounds so far. And they have a beautiful dashboard.

DataStax (formerly known as Riptano) is one of the companies that are growing in the Big Data ecosystem by delivering consulting, support and training for software solutions such as Cassandra in this case. Up to know, they have secured $13.7M of funding by the like of Sequoia Capital and Lightspeed.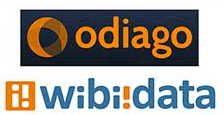 Odiago should also be considered a hot startup. Its founder, Christophe Bisciglia, had previously founded Cloudera after leaving Google where he had been a Senior Software engineer. Right now, Odiago's first product, wibidata, is in beta stage: a software solution including Hadoop, HBase and Avro for managing and analyzing large sets of userdata, structured or unstructured.

Cupertino based Karmasphere is another Big Data meets Business Intelligence solution startup we should watch. They received another $6M of funding last year, making it $11M in total. They have a variety of products out, including a Amazon AWS based cloud analytics solution.